So I haven't blogged for several months. Honestly the summer flew by, we only got to go camping in our new pop up trailer twice and both times were unbearably hot and humid – like sit in your own sweat all day type humid. Our niece Teegan came down for several weeks and she was Corbin's support person in the evenings. He loved having someone his age to watch movies with and she even managed to get him to go for walks. We loved it because we weren't inundated with a million requests. He also got his beginner driving licence.
Corbin also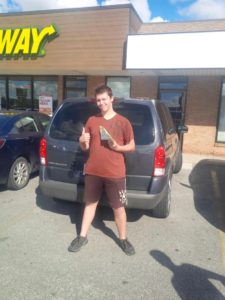 found his way onto this blog. I knew it would happen one day. I have tried to be careful what I share but when I asked him if it was ok for me to continue to share about him he answered "someone has to tell what it is like".  I teared up over that one.
Corbin turned 18 at the beginning of October so we have been knee-deep in paper work for Ontario Disability Support Program and doing the Supports Intensity Scale (SIS) through the Developmental Services Ontario (DSO). That gobbledygook means we had to prove to two different arms of the same government that he qualifies as having a developmental disability (also known now as Intellectual Disability). Oh and we also have to prove to the federal government that he still is disabled to continue to receive the Disability Tax credit.  We have heard back from ODSP that he qualifies but we are waiting to hear from the DSO. This leaves us in a bit of a pickle as Corbin has paid supports during the week and when you turn 18 the funding stops and you have to get support through DSO. We are running the risk of losing Corbin's workers – one who has been with us for almost 5 years. I try not to think of it, as there is not much we can do but wait.
Also in the works is that I am speaking at a conference about Our Journey: Finding Hope and Courage through Family Centered Care.  It's partially about my family's path with Corbin and also looking at some research and best practices for Family Centered care. The conference starts tomorrow and I speak on Friday – hence why I am writing here, I am putting off going over my presentation.  Please come back and check in – I plan to do more writing again once the conference is over.